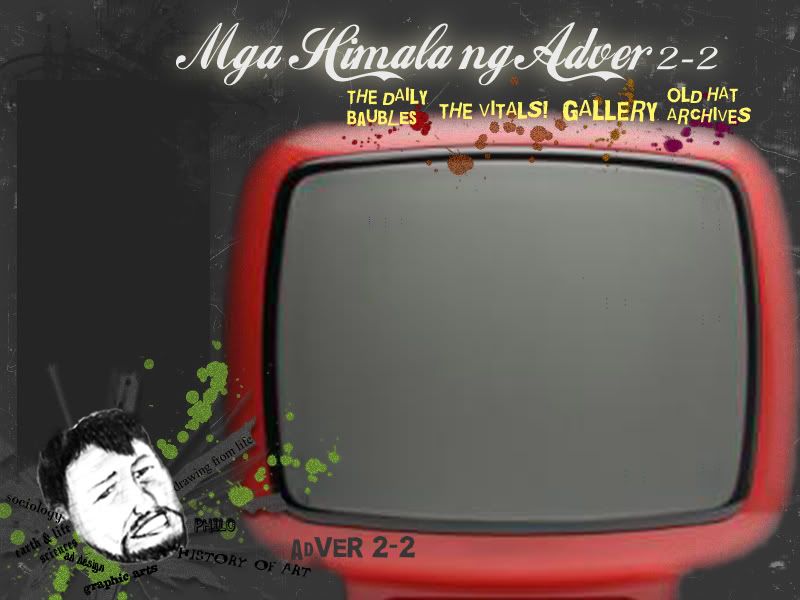 Ad3-2 default schedule.

monday
9-12 adprac4
1-4 sociology
5-9 life painting

tuesday
7-12 photography

wednesday
11-4 ad design3
5-9 product design

thursday
4-6 APP Art Appreciation
6-9 APR Ad Production

saturday
7-10 philosophy

Taken from Macci.

And when are we going to change the layout and URL?
posted by insane_orange on 9:19 e paradites |

CFAD Enrollment 3rd Year Advertising Arts

May 29 2008
2-4p pm

Down Payment: Php 22,200.00
Total Fees w/ Installmenr Fees: Php 43,745.00
Total Fees: Php 43,145


Be in proper uniform
Bring ID and Clearance.

from Macci.
posted by insane_orange on 7:12 e paradites |

everything in this site are properties of advertising arts year 2 section 2 and some other sources. nothing is copyrighted but html steal is gravely frown upon. in other words, wag niyo nakawin "artworks" ko!

&nbsp &nbsp &nbsp