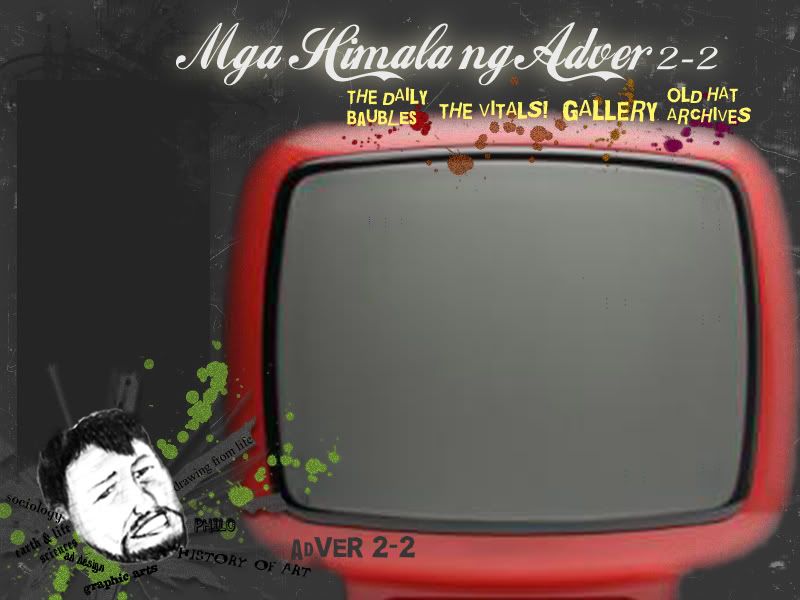 Art App
posted by insane_orange on 9:14 e paradites |

FINALLY!!!!!!
OMG!!! OMG!!!!!


i finally remembered the pw and email. YEY!! :))

tae!

i promise to be active again. LOL! (thanks khan for taking over.)

be posting stuff soon. :)


xoxo,
nicurrr
posted by ad2kami on 10:43 e pasdites |

No Ad Design tom.
Breaking news.

No Ad Design3 tomorrow, august 13 2008. More time to work on those bloody pizza boxes, or get more sleep. Cheers.
Emërtimet: announcement
posted by insane_orange on 6:39 e paradites |

AdPrac
For those who aren't members of the Y!Group(you should be, though) or have trouble d/ling the files, I've mirrored them here. Good luck.

BRANDSword.doc
MARKETING_SOLAR.doc
Promotion_Mix_Strategy.doc

--instructions--
-click link
-click 'free user'
-click 'download'

And there you go. If there's any trouble d/ling it, IM me as 'ponkhan' on Y!M/AIM, or email me at ponkhan@yahoo.com.
Emërtimet: vitals
posted by insane_orange on 6:05 e paradites |

Adtu retreat.
So, AdDos will be on their retreat this Monday-Tuesday.

Ingat kayo. Ako, dito lang ako, gagawa pa ako ng plates.

(really.)

(REALLY, GAGAWA AKO NG PLATES.)

(WHY DONT YOU BELIEVE ME D:)
posted by insane_orange on 11:55 e pasdites |

everything in this site are properties of advertising arts year 2 section 2 and some other sources. nothing is copyrighted but html steal is gravely frown upon. in other words, wag niyo nakawin "artworks" ko!

&nbsp &nbsp &nbsp